Desoldering station multi-digital, 300W with soldering iron WP65 and desoldering iron DSX120.
Contains:
Power unit WR2
Soldering iron WP65 + tip LT-B
Safety rest WDH10T
Desoldering iron DSX120 + tip DX113-HM
Safety rest WDH30
---
WR2 CONTROL UNIT 230V :

Digital 300W repair power unit.
2 independent tool channels with automatic tool recognition
Simultaneous use of 2 tools (up to maximum 300 W power rating of the unit)
It is not possible to use the hot air iron simultaneously with the desoldering iron because there is only one internal pump !
Weller Micro-Tools are not connectable (WMRT et WMRP)
Self contained vacuum and air turbine
ECO button for "sleep mode"
Programmable temperature memory key
ESD safe
Technical details:
Dimensions (L x w x H): 273 x 235 x 102 mm
Mains supply voltage: 230 V, 50 Hz
Safety class: I & III
Pump (periodic duty (30/30s) max. vacuum: 0.7 bar
Max. delivery rate: 18 l/min.
Hot air max: 10 l/min.
Temperature control range of channels: 50-550 °C
---
IRON WP65 :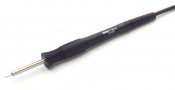 Power output: 65 W, Voltage : 24V
WT compatible
Temperature range (depends on tool) °C: 93 - 454
Temperature range (depends on tool) °F: 200 - 850
Tip family: XNT
Heat-up time (ca) in seconds (50-350°C / 120-660°F): 7 sec
---
WDH 10 SUPPORT :

Safety rest for WSP80, WP80, WP120.
---
DESOLDERING IRON DSX120 :

Desoldering iron 120 W, 24 V with eccentric fixation without security support.
Power: 120 W
Voltage: 24V
temperature rise time (ca) in seconds (50-350 ° C / 120-660 ° F): 35sec
Family tips : XDS, XDSL
Temp Range ° C : 50-450
---
PLIERS FOR DESOLDERING NOZZLE :

PDN desoldering nozzle plier for XDS desoldering nozzles.
Nozzle change without any desoldering iron damages.
Safely and easily embracement for professional de-soldering nozzle change.
Ergonomically shapped handles prevent hand fatigue.
ESD safe