Desoldering station digital 255 W compressed air or inert gas operated with desoldering iron WXDP 120.
For use with external compressed air (dry without oil) from 4 to 6 bar (debit 35L/min.).
2 channels digital and electronically controlled
Soldering- and desoldering tools with intelligent WX technology
Automatic stand-by mode for tools
ESD safe glass display, simple and fast setting of soldering parameter
Contains:
WXD 2 power unit
WXDP 120 desoldering iron
WDH 70 Safety rest with dry cleaner
---
WXD2 CONTROL UNIT 230V UK F/G :

Repair Digital Power unit, 255W / 230V.
Digital temperature control 50 ° C - 550 ° C (depending on the tool).


For use with external compressed air (dry without oil) from 4 to 6 bar (debit 35L/min.) for desoldering.
Very high capacity and fast heating time.

Using a tool up to 200W.
Simultaneous use two tools to 120W.

Robust capacitive touch screen.
Intuitive, turn and clicking enter key and guide fingers.
Multilingual menu.
Two connections that can be used to manage the units smoke extraction, warm plates and programmable logic controllers. (PLC)
Automatic recognition tools.
USB port for firmware updates, configuration settings and journalistic systems.
Intelligent tools, A / D converter and memory to handle tools.
Auto power thanks to sensors in the handle tools.
No calibration required.
Antistatic
Different possibilities of equipotential bonding on the device.
Technical datails:
Dimensions (L x W x H): 170 x 151 x 130mm
Weight: 3.2 Kg
Safety class: I, static frame
Fuse: T 2A
Temperature accuracy: + - 9 ° C
Temperature stability: + - 2 ° C
Earthing: 3.5 mm jack
Diameter tube air inlet: 6x1mm
---
DESOLDERING IRON WXDP120 :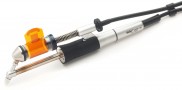 Power 120W, Voltage 24V
Bayonet mount for quick and easy change
Switch with soft and ergonomic grip
Disposable welding cartridges without cleaning
Support sensor
Temperature range ° C: 100 - 450
Temperature range ° F: 200 - 850
Rapid heat up time (35 sec. only).
Push and Pull technology: easy change of the solder cartridge.
Programmable and intelligent via the WXD control unit.