Desoldering station with multi-digital 420W, 230V with soldering iron DSX120.
3 tool channels with automatic tool detection.
Hot air iron, soldering iron and desoldering iron.
Own vacuum channel for pick up.
USB-port.
Comprehensive PC software.
All high-speed micro tools can be connected.
Safety class I and III, housing antistatic.
Temperature control of channels: soldering and desoldering irons stepless 50°C - 550°C.
Temperature accuracy: ± 9°C.
Temperature stability: ± 5°C.
Pump (periodic duty (30/30) s): max. vacuum 0,7 bar, max delivery rate 18 l/min, hot air max. 15 l/min.
Equipotential bonding: via 3,5 mm pawl socket on back of device.
Dimensions L x W x H (mm): 237 x 235 x 102mm.
Weight approx. 6,5 kg.
---
POWER UNIT WR3M :
Digital 420W repair power unit.
3 Tool channels with automatic tool detection
Own vacuum channel for pick up
Integrated pump
ECO button for "sleep mode"
Programmable temperature memory key
USB-port
Comprehensive PC software
All high-speed micro tools can be connected
ESD safe
Technical details:
Dimensions (L x w x H): 273 x 235 x 102 mm
Safety class: I & III, housing antistatic
Pump (periodic duty (30/30s) max. vacuum 0.7 bar
Max. delivery rate: 18 l/min.
Hot air max: 10 l/min.
Temperature control range of channels: 50-550 °C
---
IRON WP120 :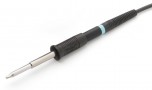 Voltage: 24V, Power: 120W
Very short heating time
Tips type: XT
temperature range °C : 50 - 450
heat-up time (ca) in seconds (50-350°C / 120-660°F) : 14
---
DESOLDERING IRON DSX120 :

Desoldering iron 120 W, 24 V with eccentric fixation without security support.
Power: 120 W
Voltage: 24V
temperature rise time (ca) in seconds (50-350 ° C / 120-660 ° F): 35sec
Family tips : XDS, XDSL
Temp Range ° C : 50-450
---
HOT AIR IRON HAP200 :

Hot air iron 200 W, 24 V with round hot air nozzle Ø 1,2 mm


24 V voltage
Power 200 W
Temperature range ° C 50 - 550
Temperature range ° F 150 - 950
tip family F, R, D, Q
Hot air flow max. l / min (depending on the tool) 15
Temperature range (depending on the tool) ° F 200 - 999
Temperature range (depending on the tool) ° C 93 - 537
Temperature accuracy ° F ± 80 ° F
Accuracy of the temperature ° C +/- 26 ° C