Tough viscous bits for hexagon socket screws for universal use.
The Hex-Plus profile offers a greater contact surface in the head of the screw.
The notching effect is therefore reduced to a minimum and damage to the screw head more or less eliminated.
For socket head screw
Ductile and tough for hard materials
Hex-Plus allows socket head screws to live longer
1/4" hexagon drive
Hex-Plus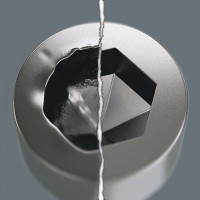 Hexagon socket screws are a problem, because the contact surfaces that transfer the force of the tool to the scre are very narrow.
Consequence: the head of the screw can be damaged, usually rounding out the recess.
Hex-Plus tools have larger contact surfaces to prevent this, driving from the flats of the recess, rather than the corners.
Good to know: Hex_plus tools fit into every standard hexagon socket screw!