The Tractor Mill 2 depaneling machine mills the routed tabs with the same quality of an automatic system at a lower costs.
The key feature of this machine is the easy and quick change of the milling cutter and the interchangeable rail (patented).
This rail is useful to assist the operator to place and drag the circuit until the cut is complete.
The particular shape of the rail avoids any damages to the assembled circuit: if the operator inserts it incorrectly it will not match the eyelet.
This rail gives a total protection against possible accidents under safety rules.
This manual depaneling machine has an integrated electric vacuum cleaner system therefore it's easy to place it in every working area. It has been designed and realized to solve stress problems, break or tearing out of the PCB's fi bers that often occur using standard blades or manual tools and that are not tolerated with the increasing complexity and miniaturization.
Aspiration: single phase turbine
Weight: 55kg
Mains supply: 230V/50Hz
Power: 900W
Depression: -17 kPa (-170 mBar) / -15 kPa (-150 mBar)
PCB thickness: Max 4mm
Slot length (L): Min 11mm
Slot width (V): Standard 1.0 - 3.175mm
Slots / component distance: min. 1mm
PCB material: FR4, CEN, (Al - with optional cutter).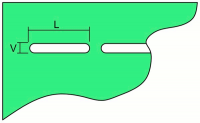 Only needs 230V and does not need air pressure supply.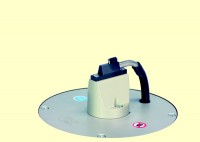 Choose the right mill: 1,5 - 2,5mm. Choose the right rail.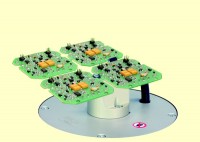 Move the PCB array towards the mill.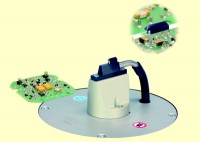 The mill removes the PCB's tabs.