Pro Amplifier Probe and Tone Generator Kit
---
TONE GENERATOR :

Three different tones selected from front panel.
Tone can be added in any status - allows test sets without monitor feature to pick up tone.
Easy to change battery - no tools needed.
Separate Talk Battery status for increased voltage and power for test sets.
Auto-OFF of tone after three hours to conserve battery life.
Constant tone amplitude over life of battery.
Two tone amplitude - normal and half.
No power draw in continuity status with leads open.
RJ jack allows use of modular cable or alligator clips.
Low battery LED indicates when to change battery.
9 Volt battery included.
---
AMPLIFIER PROBE :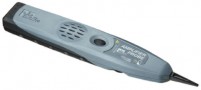 The Amplifier Probe is designed to identify and trace wires or cables within a group without damaging the insulation.
Works with any Tone Generator (62-160) to identify wires.
Battery cap allows quick and easy 9 volt battery replacement.
Volume control for increased sensitivity and adjustable to suit work environment.
Recessed ON/OFF button prevents battery drain.
Battery low indicator.
9 volt battery included.
Tip can be replaced without opening case.
Flat tip included.