Eyepiece-less optical stereo microscope with integrated digital camera and dynamic view optics.
High quality optical stereo image.
Ergonomic working position.
Long working distance.
Integrated high-definition camera, 2592 x 1944 px (5MP) @ 48fps, Back Illumated CMOS.
USB3 cable USB-C to USB-A.
Video and image capture.
On screen annotation.
Custom overlays.
Magnification 3x - 15x.
3 lens multi-view turret.
Dynamic 3D lighting.
Delivered without stand and objectives.
Work better for longer
Mantis' superior microscope ergonomics allows higher levels of concentration and lowers fatigue to give you better performance.
It enables relaxed, stress-free viewing and the eyepiece-less design reduces eye activity, and thus eye strain.
Manipulate your subject easily with long working distance, accurate 3D view, and quick magnification change.
Eyepiece-less design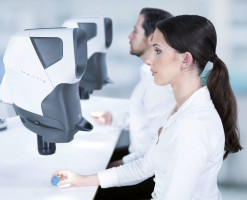 Mantis eyepiece-less technology projects a large high quality 3D image directly to your eye, making it easier to see and more comfortable to view than a binocular stereo microscopes.
The clarity of the 3D image supports enhanced hand-eye coordination, making subject manipulation with tools more accurate, faster and more efficient.
You can even wear corrective or protective eyewear without loss in performance.
Dynamic View Optics (DVO)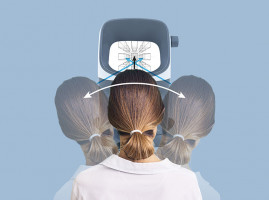 Mantis' unique Dynamic View Optics enables a stereo view, which changes as you move your head.
See the sides of a subject as well as the top to gain a greater level of information and understanding.
Postural comfort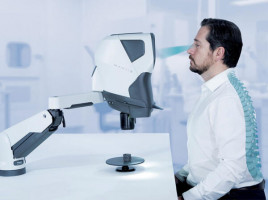 Patented eyepiece-less technology delivers a large image at a position in which the operator sits upright to view.
This is a major advantage over traditional microscope image viewing positions, and reduces strain on the operator's back, neck, and shoulders, Additionally, because the image is comparatively large, the user's head is not required to be in a fixed position, also improving working comfort.
Hand-eye coordination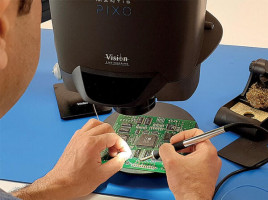 The distinctive stereo view of Mantis gives users access to both the direct view of the subject, and also to their peripheral vision.
This enhanced view helps users to understand the shape and form of the subject, and also the position of the tools they are using to work on the sample.
Maximised eye comfort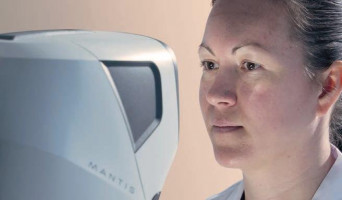 The distance from the Mantis to the user's eye allows access to ambient light, reducing iris activity when working.
Users can wear corrective or protective eye glasses with no loss of performance.
No eyepieces and simple controls which can be operated whilst wearing hand protection, supports 'no-touch' viewing.
The separation from the system to the user's eye reduces the risk of cross contamination and eye infection.
Mantis can be shared between multiple operators more safely, reducing operator risk.
Mantis can be used in otherwise inaccessible environments such as laminar flow cabinets.
Easy to use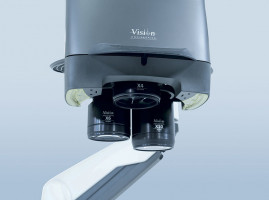 Mantis has few, simple to operate controls to ensure that every user quickly and effectively becomes confident with the instrument.
Rotating the multi-view turret allows three different magnifications of your subject with a simple operation.
Perfect stereo view every time
The simple inter pupillary distance (IPD) control ensures that every user has the perfect stereo view, every time. Simply rotate the control until the binocular image aligns with your eyes.
High performance digital imaging for collaboration, traceability and training
Use Mantis PIXO's integrated high quality microscope camera to share your image to a screen. Capture, review, analyse and share high quality images, including annotations, in real time, to improve reporting and communication.
Maximise working effectiveness by adding digital overlays to compare live images with targets, measures or pre-set guides.
Scope of delivery:
1x Mantis Pixo Head
1x PSU (multi-plug)
1x User guide on USB
1x USB cable
1x Glare hood
1x ViCapture software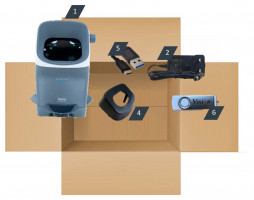 1. Mantis Pixo Head
2. PSU (multi-plug)
4. Glare hood
5. USB-C to USB-A cable.
6. USB key, user guide and ViCapture software
Requires:
---
POWER SUPPLY, 12V 3A, multi socket adapter for different regions, types: A, C, G, I :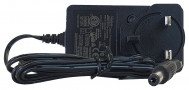 12V 3A, multi socket adapter for different regions. Types: A, C, G, I.