For miniature works under microscope: 0402 and down to 01005.
The powerful, user-friendly set offers highest process reliability for smallest soldering applications in aerospace, electronics, sensors, medical devices, military and automotive industry.
Delivered with solder wire SAC M1, 0,2mm, 10g.
---
WX2 CONTROL UNIT 230V UK F/G :

Digital Power, 240W / 230V.
Digital temperature control 50 ° C - 550 ° C (depending on the tool).
Very high capacity and fast heating time.

Using a tool up to 200W.
Simultaneous use two tools to 120W.

Robust capacitive touch screen.
Intuitive, turn and clicking enter key and guide fingers.
Multilingual menu.
Two connections that can be used to manage the units smoke extraction, warm plates and programmable logic controllers. (PLC)
Automatic recognition tools.
USB port for firmware updates, configuration settings and journalistic systems.
Intelligent tools, A / D converter and memory to handle tools.
Auto power thanks to sensors in the handle tools.
No calibration required.
Antistatic
Different possibilities of equipotential bonding on the device.
Technical datails:
Dimensions (L x W x H): 170 x 151 x 130mm
Weight: 3.2 Kg
Safety class: I, static frame.
Fuse: T 2A
Temperature accuracy: + - 9 ° C
Temperature stability: + - 2 ° C
Earthing: 3.5 mm jack.
---
WXPP MS HANDPIECE FOR RTP MS TIP :

Handpiece for high precision micro soldering applications: 0402 to 01005.
Always use MS tips with MS irons
Component size XS to S
Extremely fast heat-up time: 3 sec.
Triple awarded active tip technology are fully compliant with MIL-SPEC / IPC Standard.
Motion sensor and integrated parameter storage.
Toolless tip change.
Active tip technology.
Grip and tip in one unit.
Delivered without tip
---
TIP CHISEL RTP 004 S MS 0,4x0,2mm :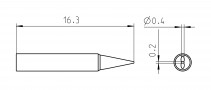 Tip Chisel form
Close working distance to the component for higher precision and maximum control.
Fastest heat-up and recovery time, sensor close to the solder tip, excellent heat transfer. No downtime, continuing workflow, excellent results.
Motion activated usage sensor for energy control and data storage.
Only WXPP MS Solder Iron Compatible
Millitary Specification : MIL-SPC / IPC standard (potential free)

Reduces risk of damage to sensitive micro components and workpieces.
No rework, lower total cost of ownership
---
SAFETY REST WSR 208 :

For WXPP.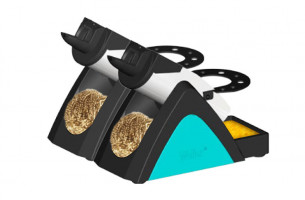 Safety Rests Join Together
With the removal of the blue side plates, two or more safety rests can be bolted together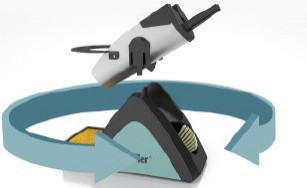 2-in-1 WSR Safety Rest
The soldering iron holder can be rotated through 180°. Users can choose between wet and dry tip cleaning.
---
BRUCELLES 5SA :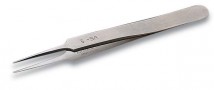 Precision tweezers with very fine tips, special stainless steel, unmagnetic.
---
WSW SAC M1 SOLDER WIRE 0,2mm, 10g :

Soldering wire with integrated flux core.
Superior wetting properties
Cost reduction due to reduction in tip change frequency
Reduced spring effect - less solder splashes