Soldering station, digital, 200W, 230V with soldering iron WXP120 (120W).
Kit consists of:
WX 1 control unit (200W/230V)
WXP 120 soldering iron, 120W / 24V, XTB 1 tip
WDH 10 safety rest
---
WX 1 CONTROL UNIT 230V UK F/G :

Digital Power Unit, 200W / 230V.
Digital temperature control 50 ° C - 550 ° C (depending on the tool).
Very high capacity and fast heating time.
Robust capacitive touch screen.
Intuitive, twist and click to enter key and guide fingers.
Multilingual menu.
Automatic recognition tools.
USB port for firmware updates, configuration settings and journalistic systems.
Intelligent tools, A / D converter and memory tools in the handle.
Auto power thanks to sensors in the handle tools.
No calibration required.
Antistatic
Different possibilities of equipotential bonding on the device.
Technical Details:
Dimensions (L x W x H): 170 x 151 x 130mm
Weight: 3.2 Kg
Safety class: I, static frame.
Fuse: T 2A
Temperature accuracy: + - 9 ° C
Temperature Stability: + - 2 ° C
Earthing: 3.5 mm jack.
---
WXP 120 SOLDERING IRON 120W :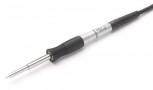 Voltage: 24 V, Heating output: 120 W
Heat-up time (ca) in seconds (50-350°C / 120-660°F): 14 sec
Tip family: XT, XT Soldering head
WX compatible
Temperature range (depends on tool) °C: 93 - 454
Temperature range (depends on tool) °F: 200 - 850


For soldering small and large components with high heat demands
---
WDH 10 SUPPORT :

Safety rest for WSP80, WP80, WP120.