This soldering iron, operated using butane gas, has infinitely variable temperature control.
Recharged in seconds
Easy-to-handle, requires no power cord or batteries and is electronically completely neutral (no peaks).
Longlife soldering tips deliver quick heat-up time.
It can also be used as a hot air unit for shrinking plastic.
Consists of:
gas soldering iron WP1
soldering tip 91-01-01
hot air tip 91-01-52
closure cap.
---
SOLDERING TIP 91-01-01 1mm :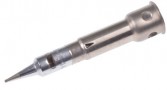 Tip shape: Right taper
tip impressions: 1 mm
For Use With: WP1 Soldering Iron